Brigadeiro is a classic Brazilian dessert made with sweetened condensed milk and cocoa powder. Here's how to prepare it: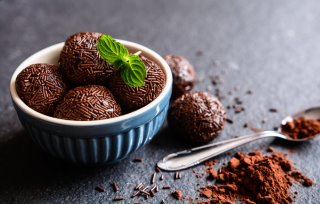 Ingredients:
1 can of sweetened condensed milk
2 tablespoons of unsweetened cocoa powder
2 tablespoons of butter
Chocolate sprinkles for coating
Instructions:
In a medium saucepan, combine the sweetened condensed milk, cocoa powder, and butter.
Cook the mixture over medium-low heat, stirring constantly, for about 10-15 minutes, until it thickens and separates from the sides of the pan.
Remove the pan from the heat and let the mixture cool to room temperature.
Using a small cookie scoop or spoon, shape the mixture into small balls.
Roll the balls in chocolate sprinkles until they are fully coated.
Serve at room temperature.
Enjoy this delicious Brazilian treat!