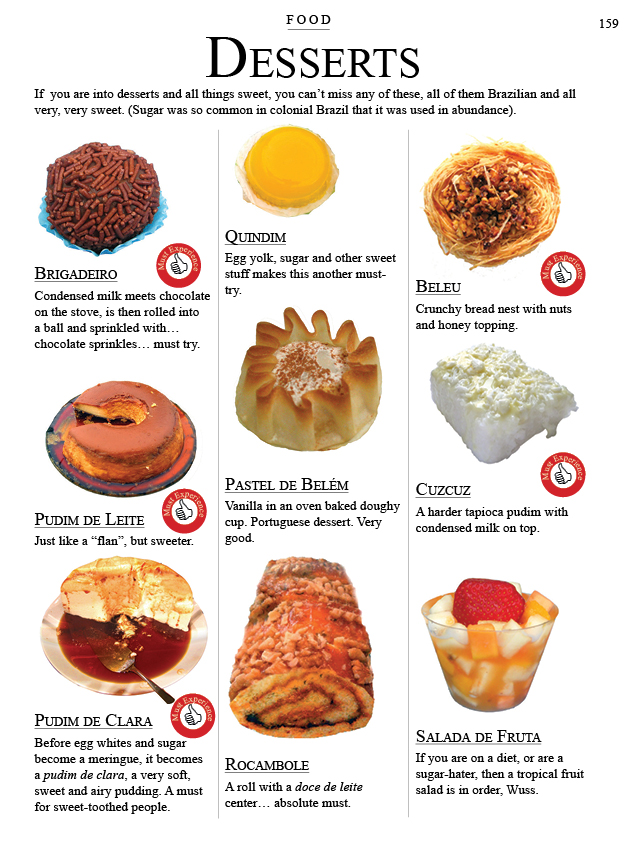 Brigadeiro
Condensed milk meets chocolate on the stove, is then rolled into a ball and sprinkled with…chocolate sprinkles… must try.
Pudim de Leite
Just like a "flan", but sweeter.
Pudim de Clara
Before egg whites and sugar become a meringue, it becomes a pudim de clara, a very soft, sweet and airy pudding. A must for sweet-toothed people.
Quindim
Egg yolk, sugar and other sweet stuff makes this another must-try.
Pastel de Belém
Vanilla in an oven baked doughy cup. Portuguese dessert. Very good.
Rocambole
A roll with a doce de leite center… absolute must.
Beleu
Crunchy bread nest with nuts and honey topping.
Cuzcuz
A harder tapioca pudim with condensed milk on top.
Salada de Fruta
If you are on a diet, or are a sugar-hater, then a tropical fruit salad is in order, Wuss.