FAQ
1. What is Cook in Rio?
CookinRio is a renowned tour operator in Rio de Janeiro, Brazil that specializes in offering 4-hour cooking classes to foreign tourists. Our classes are conducted in English, providing an immersive and enjoyable culinary experience for visitors.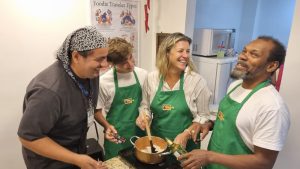 2. How much does a cooking class with CookinRio cost?
The cost for a cooking class with CookinRio starts at USD 85 per person. This fee covers the cooking class, ingredients, professional guidance, and a delightful meal prepared by you during the class.
3. What does the cooking class entail?
During our cooking classes, you will have the opportunity to learn how to prepare authentic Brazilian dishes from experienced local chefs. The classes include hands-on cooking, where you'll be guided through each step of the recipe, from selecting fresh ingredients to final plating. Afterward, you'll enjoy the delicious meal you prepared with your fellow classmates.
4. What type of cuisine is taught in the cooking classes?
At Cook in Rio, we focus on teaching traditional Brazilian cuisine. You'll learn how to prepare popular dishes such as feijoada (black bean stew with pork), moqueca (Brazilian fish stew), pão de queijo (cheese bread), brigadeiro (chocolate truffles), and more. Our classes offer a diverse range of recipes that reflect the rich culinary heritage of Brazil.
5. Can I join the cooking class if I have no cooking experience?
Absolutely! Our cooking classes are designed for all skill levels, including beginners. Our experienced chefs will provide step-by-step instructions and guidance throughout the class, ensuring that everyone can participate and learn at their own pace.
6. How long does a cooking class typically last?
Each cooking class at CookinRio lasts for approximately 4 hours. This duration includes the preparation, cooking, and enjoying the meal together. It\'s a perfect way to spend a delightful half-day immersing yourself in Brazilian cuisine.
7. Is the cooking class taught in English?
Yes, all our cooking classes are conducted in English. Our instructors are fluent in English and will ensure that you understand the cooking techniques, ingredients, and cultural aspects related to Brazilian cuisine.
8. Where are the cooking classes held?
Cook in Rio's cooking classes take place in a dedicated culinary studio in Rio de Janeiro. The exact location and address will be provided upon booking confirmation.
9. Can I book a private cooking class for a group?
Certainly! CookinRio offers private cooking classes for groups, which can be a great activity for families, friends, or corporate events. For private class inquiries and group bookings, please contact us directly through our website.
10. How can I book a cooking class with CookinRio?
To book a cooking class with CookinRio, simply visit our website at www.cookinrio.com and navigate to the booking section. Choose the desired date and number of participants, and follow the instructions to complete the reservation process. We recommend booking in advance to secure your spot, as our classes tend to fill up quickly.
11. What is the cancellation policy for cooking classes?
Our cancellation policy allows for a full refund if you cancel your booking at least 48 hours before the scheduled cooking class. However, if you cancel within 48 hours of the class or fail to show up, the fee is non-refundable.
12. Is transportation provided to the cooking class venue?
Transportation to the cooking class venue is not included in the package. However, we can provide recommendations and assist you in arranging transportation options if needed.
13. Can I bring my kids to the cooking class?
Children are welcome to participate in our cooking classes, but we recommend considering their attention span and ability to engage in the cooking process. Parents or guardians are responsible for supervising and assisting their children during the class.
14. Are vegetarians or dietary restrictions accommodated in the cooking classes?
Yes, we strive to accommodate dietary restrictions and preferences. Please inform us of any dietary requirements or allergies when making your booking, and we will make every effort to tailor the recipes and ingredients to meet your needs.
15. Do you offer any additional services or packages?
Aside from cooking classes, Cook in Rio also provides culinary tours and food-related experiences in Rio de Janeiro. These may include market visits, local food tastings, and cultural insights into Brazilian gastronomy. Check out our website for more information on these additional offerings.
If you have any further questions or need assistance, please feel free to contact us directly through our Whatsapp or email. We look forward to welcoming you to CookinRio for an unforgettable culinary experience in Rio de Janeiro!